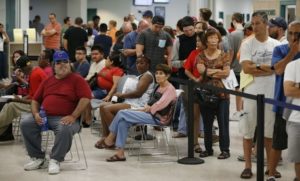 The process to register a used boat in Arkansas borders on the ridiculous. We paid $50 hard currency to the state to get through the process. The cost to process the transaction on their side was about $23 assuming the clerk taking half an hour with our transaction made $40,000 per year. The cost to me, assuming I make $250 an hour (which is about the rate of a cheap hooker), cost me $625 since it was a two and a half hour ordeal.
That makes the total net cost to register a 1999 boat equal to $598. That is STUPID my friends. And what did they get from all that? They now have a file that says the clerk looked at the bill of sale, the old title,  proof of insurance, and a photo of the hull identification number. It screams to be modernized and automated. There are several glaring problems.
They have ancient computers that are not connected to the databases they need.
They walk back and forth across the office gathering this print out, that form, or other materials.
The need better software programs designed to be smarter at filling in forms.
They need to push it out so citizens do the work online and charge more for those who walk in for "special service" by the clerks.
It reminds me of stories from my friends in third world countries who told me that you had to take a day off to register your TVs. I think it is time to write the elected reprentatives and the appointed bureaucrats. Hated it!